18 February 2020
FALCON, owned and operated by GCX, is the most extensive subsea cable in the Middle East connecting from Suez to Mumbai, with a full loop around the Gulf and a spur connecting Sri Lanka and The Maldives.
FEA: One of the longest submarine cable systems in the world, connecting Europe to the Middle East & Asia.
On 9 January 2020, GCX suffered two significant submarine cable cuts off-shore Port Suez. The cable routes impacted included FALCON between Muscat and Suez, and FEA between Mumbai and Suez. By 13 February, GCX successfully repaired the FALCON cable ahead of schedule, and connectivity returned to those affected by the outage. By 20 February, FEA was also repaired.
The FALCON Seg 8 Express links between Muscat & Suez were down for a total of 35 days, 8 hours, and 32 mins between 09:56 GMT, 9 January 2020 to 18:28 GMT, 13 February 2020. FLAG FEA Segment F1 Express links between Muscat & Suez were down for a total of 40 days, 12 hours and 2 mins between 10:06 GMT, 9 January 2020, and 22:08 GMT, 20 February 2020. All other local traffic, except Suez, was operational during this time.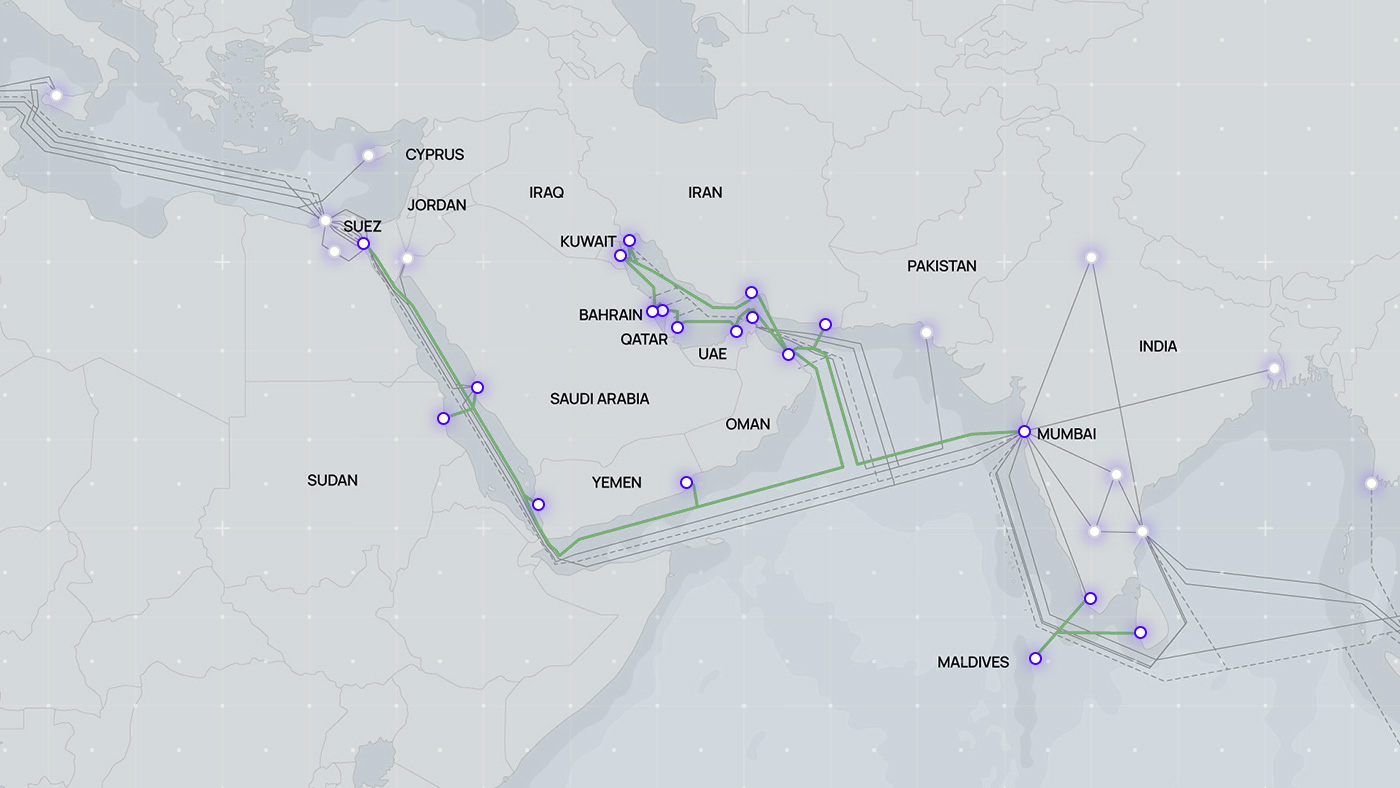 FALCON subsea cable system
After the cuts occurred, GCX immediately mobilized a cable ship through its vital partner in the Middle East, E-Marine – to support GCX with the repairs with the utmost urgency. Required permits applications, planning, and logistics were initiated and executed as fast as possible by expert teams in the region. The cable repair ship arrived in Egypt on 5 February for clearances and final permits. The repairs of FALCON started on 8 February, and over five days, repairs of two separate faults over a 900m cable section were complete. After FALCON repairs and associated cable burials and inspection, the FEA repairs commenced on 15 February and concluded on 20 February.
The cause of these faults have been identified as external aggression due to a large merchant vessel anchor. The vessel has been identified, and legal action will be carried out against the merchant vessel.
Timescales for cable repairs can vary from weeks to months, depending on fault territory, permits required, personnel, ships, and equipment. The restoration of FALCON and FEA being completed successfully ahead of an already ambitious schedule was only possible by two equally key factors. Firstly, the speed and diligence of GCX and eMarines logistics in the region to mobilize cable ships and conduct repairs quickly and effectively. Secondly, the efficiency of Telcom Egypt (TE) in obtaining master permits for all systems allowing speedy processing of the operational permits for FALCON and FEA work areas.
GCX's extensive fiber optic cables spans all around the world, directing traffic across continents, transmitting massive amounts of data, and streaming millions of conversations simultaneously from one country to another. Subsea cables can be damaged caused by anchors, fishing activities from trawlers and natural disasters. GCX fully understands the impact of an internet outage and will always strive to ensure that connectivity is restored as fast and efficiently as possible.