TECH PERSPECTIVE / THE DIGITAL EDGE / BY STÉPHANE CAUMONT
Digital transformation in retail – moving up the retail value chain
We recently met with the CTO of one of our largest customers in the retail industry; a company with many thousands of stores on high streets across the UK & Ireland, Australasia and Scandinavia. He explained how his company is wrestling with digital transformation in retail, in particular, in how it offers its products and services. The specific strategic objective being to move further up the value chain; a transformation driven by global digitization.
Challenges faced by retailers
Like most other businesses operating in the 21st Century economy, retailers are facing challenges. As more and more critical and personal data is used to serve customers better, retailers' networks need to be more available, secure and perform to higher standards. In the past, a retailer could continue to operate for a few hours through a network outage which cut a store off from its centralized systems – so long as it could continue to make and process payments manually. Now they face the risk of losing customers even if their website takes "too long to load", or if they are not in line with their customers' buying behaviors and lifestyle choice.
Heaven forbid should they experience a security breach.
The impact of digital transformation on the network
Digital transformation in retail not only puts more demand on a retailer's network infrastructure & services, but also on the teams supporting them.
Previously, the IT team was tasked with providing a network that works "most of the time". Now, they expected are to provide an "always-on, performant and reliable network". What's more they also need to be able to anticipate new demands coming from the other departments; especially marketing.
Big Data and customer insight
Throughout retail, customer experience is seen as key to success. So not surprisingly, the marketing departments of the leading retailers, those who boast satisfied, loyal customers who give good online reviews, use Big Data to analyze customer behavior. This data is then converted to "customer insight" to try to anticipate likely future buying habits.
Unsurprisingly, Big Data is totally reliant on a "performant and reliable network", probably connected directly to the Cloud.
There are 2 key network considerations at play here.
What about SD-WAN in retail?
Firstly, there is the need for the "always-on, reliable and performant" (and we should probably add in "cost-effective" here) network. The good news is that the emerging network technology that everyone is talking about , "SD-WAN", can help provide this. With SD-WAN, a logical "overlay network" is built on top of underlying network transport (like MPLS or Internet circuits) to create a "hybrid underlay network". An intelligent engine called an "orchestrator" (which is built into the heart of the network) makes routing decisions in real-time according to prevailing network conditions, like congestion, throughput, latency etc. This ensures application traffic takes the optimum route across the underlay.
In an SD-WAN, a site's network transport (circuits) is always available (assuming the use of more than 1 connection) because individual circuits are "pooled" together. This means site availability is all-but guaranteed. It's very unlikely that a fault would eliminate all transport at the same time if the Hybrid WAN underlay network has been designed and implemented properly.
And since SD-WAN is able to make more intelligent dynamic routing decisions, there is often less need for expensive, high bandwidth MPLS. This can then drive lower network operating costs.
Network agility in the software-defined world
The second consideration is the need for agility in the way network services are provided, in order to anticipate future requirements placed on the infrastructure. Once again, this can be answered with SD-WAN which promises Cloud-like agility and elasticity.
At this point, let me explain that the "SD" in "SD-WAN" stands for "Software-Defined". By using template-based SD-WAN policies written in software, connected by network transport (like 4G and LTE) that can be made available very quickly, new sites can be added to the network, or changes made to existing services, much more easily than with traditional models.
Agility like this is vital to support digital transformation in retail, where stores often need to be opened or relocated at very short notice.
The key to success for SD-WAN in retail
But how can the IT team of a large retailer achieve this perfect state?
As retail businesses become increasingly digital, the access to data stored in the Cloud is key. The mandate for the CIO is to ensure that the network is designed such that customers and employees can access resources anytime.
And SD-WAN in retail can answer this requirement.
For SD-WAN in retail to succeed, the key building blocks need to be in place; a reliable and performant "hybrid underlay network" (consisting of MPLS, Internet, 4G/LTE transport), direct access to the Cloud, and an "SD-WAN overlay" to provide agility, flexibility and responsiveness.
Is hybrid underlay, or hybrid WAN new ?
But digital transformation in retail does not depend on SD-WAN. Low-cost hybrid WAN which consists of a mixture of low cost Internet, MPLS, Ethernet etc. is not new and is not contingent on the uptake of SD-WAN. We have supported household retail brands like Zeeman, Specsavers, Euromaster, Amplifon and many more through low cost managed hybrid WAN for decades.
For a retailer looking to deploy sites all over the world, the SD-WAN overlay can certainly simplify many day-to-day tasks for the IT team or the Managed Service provider while offering better reporting and dynamic routing capabilities.
But let's not forget the underlay! There are literally thousands and thousands of Internet options to choose from and a bad choice can be disastrous in a widespread hybrid WAN. But that's another story.
It's also key to not lose sight of the fact that not all SD-WAN devices come equipped with cost-effective WAN interfaces which has been known to stop pure cost-saving business cases dead in their tracks. If the SD-WAN overlay does indeed offer more flexibility and agility than a traditional hybrid WAN, the expectation that this can be done at a lower cost may need to be revisited.
Is SD-WAN the answer?
So should a CIO deploy SD-WAN technology to support digital transformation in retail?
The simple answer is maybe.
As a pure cost-saving exercise there may not be a case. In fact cost savings from hybrid WAN can be derived without SD-WAN. But as a platform to underpin digital transformation in retail on high streets around the world, SD-WAN services like GCX's CLOUD X WAN, complete with hybrid WAN underlay, can offer unrivalled levels of agility, flexibility, availability and control if designed, implemented and operated properly.
CONTRIBUTED BY
Stéphane Caumont is the Country Manager for France and the Netherlands at Global Cloud Xchange and an industry veteran with 20 years of global telecommunications experience with a strong focus on the retail industry and voice services.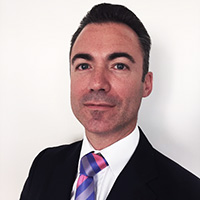 RECENT ARTICLES FROM THE DIGITAL EDGE